In Memory
Richard Glover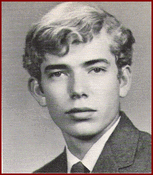 James Richard Glover, 51, of Newark died Wednesday, March 12, 2003, at his residence east of Newark.
Born May 7, 1951, in Kirksville, he was a son of Kenneth Karl and Rita Virginia Lear Glover.
Richard grew up in the Newark community and attended Newark Grade School before graduating from Knox County High School in 1969. He attended the Kirksville Vocational Technical School before returning to Newark where he farmed with his borthers for the past 30 years. Richard had attended the Newark Christian Church.
He is survived by two brothers, Kenneth and his wife, Meg Glover, and Alan and his wife, Lottie Glover, all of Newark; a sister, Carolyn and her husband, Dan Killday, of Holts Summit; two nieces, Mary Killday and Ginnie Glover; four nephews, Kenneth Killday, Matt and his wife, Dana Glover, Ben Glover and Charles Glover; a great-niece, Katie Killday; a great-nephew, Kevin Killday, his stepmother, Gerry Glover of Hannibal and her son, Randy, and his wife, Loretta Moore, of St. Charles.
Richard was preceded in death by his parents and a niece, Dana Michelle Killday.
Burial was in the in Newark Cemetery.